Det här är Mattias Ståhl.
Han spelar vibrafon.
(info in english below)
Nytt rykande färskt duo-album med mäster Georg Riedel! Kontrabas och vibrafon/marimba, mestadels kompositioner från Georgs penna. Staffan Svensson (trumpet) gästar! Inspelat, mixat och mastrat av Mats Äleklint, släppt på Playground Music.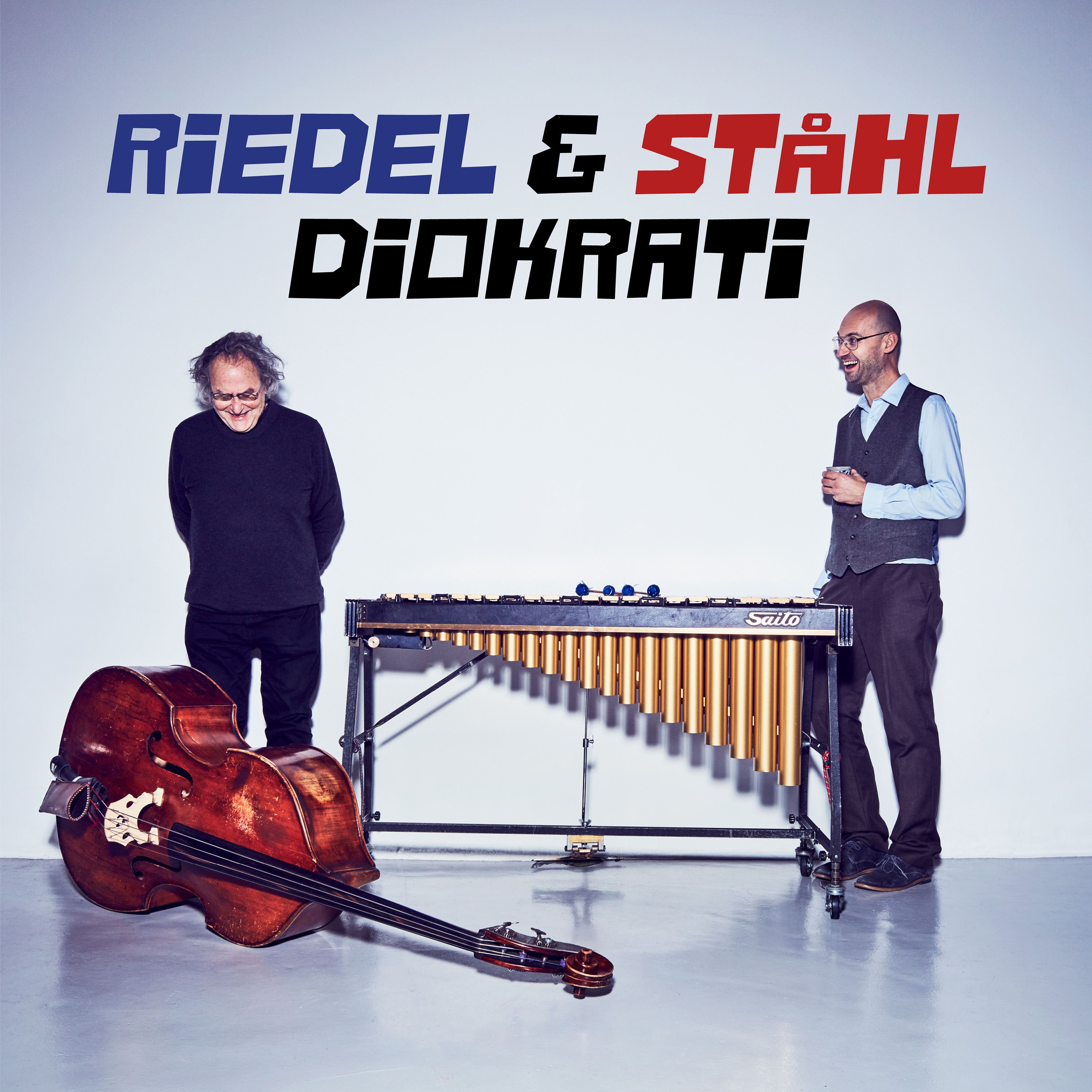 Mattias spelar också med sin egen trio STÅHLS TRIO (med Christopher Cantillo - tr och Joe Williamson - b). Nytt album på gång, släpps maj 2019!!

"KÄLLTORP SESSIONS VOL 1"

Tidigare totally indie-success-albumet från 2013:

"JAG SKULLE BARA GÅ UT" finns på vinyl (dubbel 10") och cd.

Fantastiska recensioner på skivan, köp den!! Gör det här: www.moserobie.com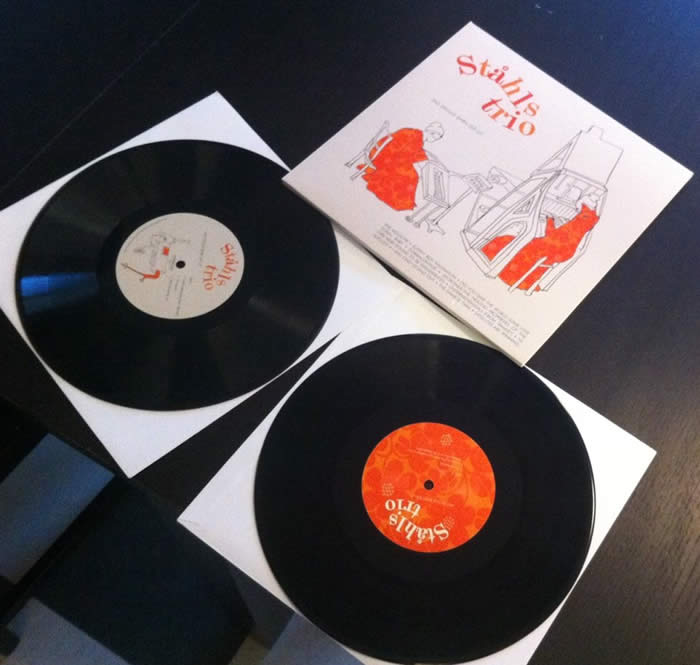 "But I'm even more floored by the new Jag Skulle Bara Gå Ut (Moserobie), a fantastic trio album (…) right from the start there's something about it that reminds me of the quicksilver energy and spontaneity of the pianist's classic Money Jungle album with Charles Mingus and Max Roach (…) Few adventurous jazz records I've heard this year are this subtle. Or this good."
Chicago Reader (US)
"…take things into outer space - almost literally during his trio's wiggy introduction to Sun Ra's "Satellites are spinning" - and the meter-free middle section of the trio's rambunctious take on Duke Ellington's "The Mooche". Ståhl and his confederates sound equally masterful negotiating orbits closer to a gravitational body. (…) Ståhl establishes his singularity through the clarity of his lines and the precision of his attack. The multifarious talents of the rest of the trio contribute to the album's success. (…) Rarely are rigor and accessibility so successfully balanced.
4/5 stars
Downbeat Magazine (US)
"er det ei fryd for øyret (…) eit praktfullt album."
Dagsavisen (NO)
"en av verdens aller beste og mest uttrykksfulle vibrafonister (…)tar oss med på ei vidunderlig vakker og sammensatt reise (…)"
Nettavisen (NO)
"…fin skiva med subtil känslighet (…) Det är en av hemligheterna med skivan överlag tror jag, en spänning mellan den ganska enkla ytan och det djup som finns därunder."
Soundofmusic (SE)

"Så mycket att lyssna till, så mycket fina detaljer. Samtidigt tre musiker som spelar tillsammans och skapar en musikalisk helhetsbild. (…)ett album som varmt rekommenderas."
Orkesterjournalen 4/5 (SE)
…just det gemensamma är viktigt för trion. De lyssnar, känner in, bearbetar intryck och lägger till. Finessrikt, utan att framhäva individuella prestationer på bekostnad av det gemensamma uttrycket. (…) Mattias Ståhl börjar få internationellt renommé som uppfinningsrik vibrafonist och det med all rätt."
LIRA (SE)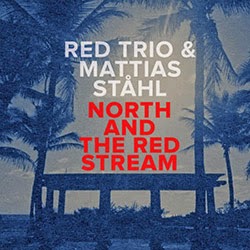 Portugisisk stjärntrio (med Hernani Faustino - kontrabas, Rodrigo Pinheiro - piano, Gabriel Ferrandini - trummor) möter svensk vibrafonist i Litauen (Nobusiness records)!
Såhär tycker Applegate!
På Honorable mention; best of 2014/New York City Jazz Record och dessutom en rekorderlig bronsplats på The Wires årsbästalista för 2014, inte illa: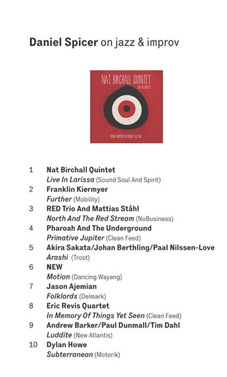 Tidigare grupper&samarbeten inkluderar fina orkestern TVÅ FÖR TOMMY, (med Fredrik Ljungkvist - cl och Patric Thorman - b) som släppte en löjligt fin vinyl under 2012 på Found You Recordings! Den är släppt i ynka 350 ex.
Han har även spelat in en duo-CD med mästerimprovisatören och grannen Sten Sandell (2008), dessförinnan släppt två egna album som fått mycket uppmärksamhet både på hemmaplan och internationellt med sin tidigare kvartett Ståhls blå.
Under senare år har han spelat en del med storheter som Per Texas Johansson (Gyllene skivan 2016!), Georg Riedel samt Emil Svanängen/Loney Dear i olika sammanhang. Aktiva grupper just nu är Martin Küchens Angles, Norsk-svenska I.P.A. med Magnus Broo/Atle Nymo/Håkon Mjåset Johansen/Ingebrigt Håker Flaten. Men också Jazz på Pippis vis, barnkonserter med Sarah Riedel, Viktor Skokic, Thomas Backman och Jon Fält.
Andra grupper där han dragit strå till stacken genom åren är exempelvis Trondheim Jazzorkester, Daniel Buner Formo:s Formo Tre&Metall, Cecilia Persson kvintett, Joakim Milders Takeaway, Team Hegdal, Lennart Åbergs stora och små orkestrar, Nils Berg 5 , Alberto Pinton Quintet, Yttling Jazz, Fredrik Nordström Quintet och Klaus Holm Kollektif. Han var husvibrafonist hos swingtronica-killarna i Koop världen runt mellan 2002-2008. Han fick Sveriges Radio P2:s pris jazzkatten som årets nykomling 2002 för CD:n "Ståhls blå".
Polar Prize music award juni 2015, under ledning av Hans Ek!
Media tycker till:
Piano and vibraphone risk mutual cancellation. Each on its own can overwhelm musical content with volume of sound, so it takes discipline for them to be heard in each others presence. Swedes Sten Sandell and Mattias Stahl are up to that task. Each modulates his approach to ensure the music's balance(...) ...their contributions never blur.
Bill Meyer, Downbeat Magazine (US)
...själv river han undan alla fördomar om vibrafonen som ett mesigt plinke-plonk-instrument; det här är intelligent och sexig friformjazz som river i högtalarmembranen. Med nervig, knappt tyglad energi, massor av överraskningar och, faktiskt, melodier som biter sig fast.
Lennart Persson, Expressen

Vibrafonisten Mattias Ståhl har en djävulsk känsla för sitt instrument…intensitet, kraft och dess motpoler lugn och luft.
Fredrik Eriksson, Groove
... ger skickligt varandra motstånd och stöd. Ibland luftigt och mjukt, ibland kantigt och hårt. (...) Överhuvudtaget finns ett tilltalande samspel mellan de båda, samtidigt som de var för sig ges utrymme att ta ut svängarna. Lyhördhet är ett signum (...)
Magnus Olsson, Sound of Music
Vackert och utmanande i förening.

Måns Wallgren, Dagens Nyheter
...cd:n låter lite som om Archie Shepp spelade vibrafon.
Groove
...det lät som när teven pajat.
Eskilstuna-kuriren
2019
Febr 5-8 Edition Festival with Anthony Braxton, Stockholm
Febr 11 Sundsvall w Georg Riedel Secret Song
Febr 12 Bollnäs w Georg Riedel Secret Song
Febr 13 Härnösand w Georg Riedel Secret Song
Febr 14 Umeå w Georg Riedel Secret Song
Febr 15 Ö-vik w Georg Riedel Secret Song
Febr 16 Skellefteå w Georg Riedel Secret Song
March 1 Alice, Copenhagen w Elephantine
March 4 Fasching, Stockholm w Georg Riedel, DIOKRATI - Release!!
March 23 Nalen, Stockholm
March 29 Teater Pero, Stockholm w LONEY DEAR
March 30 Haag w Elephantine
April 4 Cologne w Elephantine
April 5 Paris w Elephantine
April 6 Brussels w Elephantine
April 8 KMH Stockholm w Pål Nyberg
April 28 Stockholm w Vivian Buczek a o
May 1 GMC Stockholm w Klaus Holm
May 2 Sköndal w Georg Riedel
May 9 Oslo w Eirik Hegdal
May 10 Venice w Elephantine
May 18 Uppsala w LONEY DEAR
May 22 Stockholm w ANGLES
May 23 FASCHING, STOCKHOLM = STÅHLS TRIO RELEASE!!!
May 29 GMC Stockholm w Vikberg/Küchen a o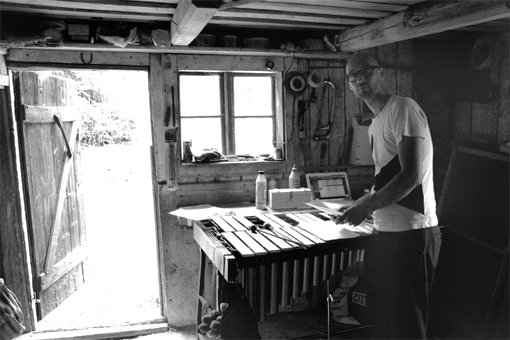 This is Mattias Ståhl.
He plays the vibraphone.
CURRENT PROJECTS:
STÅHLS TRIO, with Joe Williamsson -b and Christopher Cantillo - dr. New album - "JAG SKULLE BARA GÅ UT" out Moserobie Music Production! On CD or limited double 10" vinyl. Fantastic reviews!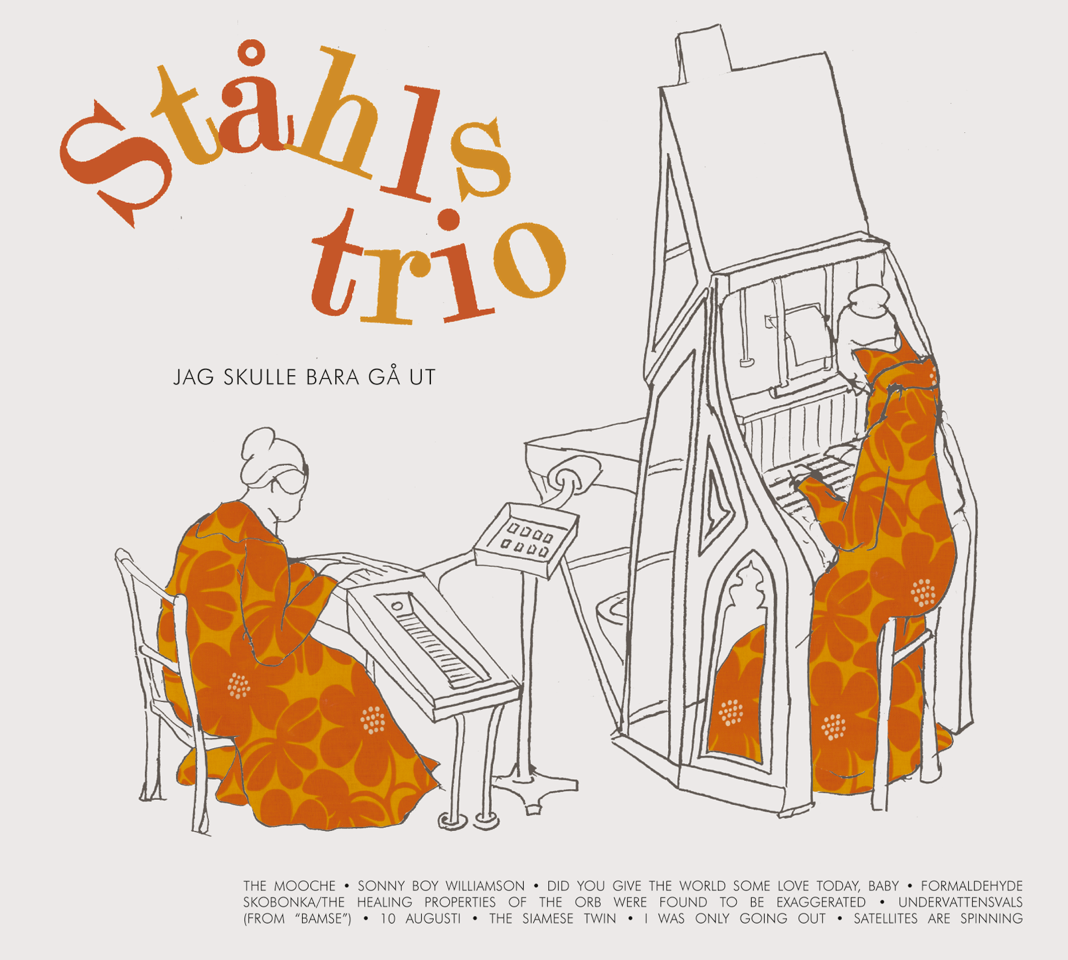 "Few adventurous jazz records I've heard this year are this subtle. Or this good."
Chicago Reader
Check out the full review at
http://www.chicagoreader.com/Bleader/archives/2013/11/29/matthias-sthl-reps-the-vibe-for-europe
TVÅ FÖR TOMMY playing in a more chambermusic setting; vibes, bass and clarinet. Fredrik Ljungkvist - cl, Patric Thorman -b. Vinyl album out 2012 on Found You Recordings! Copies limited to 350 ex.
Other recordings are the duo with master improviser Sten Sandell (an album released in 2008 - "GRANN MUSIK" on the portugese label Cleanfeed).
Mattias is born 1971 in Oskarshamn, Sweden and lives in Stockholm. Have the latest 15-20 years performed at stages around Sweden and elsewhere, focusing on jazz and improvised music. Released two album of his own with his former quartet Ståhls blå ("Ståhls blå" 2001 and "Schlachtplatte" 2004), which achieved great attention from reviewers all over the world. He also composed all the music for this group. As a sideman he contributes in a lot of exciting groups, from working bands as Martin Küchens Angles and norwegian-swedish I.P.A. with Magnus Broo/Atle Nymo/Håkon Mjåset Johansen/Ingebrigt Håker Flaten, to projects with legends Georg Riedel, Per Texas Johansson and swedish indie wonder Emil Svanängen aka Loney Dear. Also: Cecilia Persson Quintet, Daniel Buner Formos Formo Tre&Metall and different projects with Trondheim Jazzorkester. Other groups where he contributed during the years are Eirik Hegdals Team Hegdal, Joakim Milders Takeaway, Lennart Åberg:s big and small orchestras, Nils Berg 5 (Jazz in Sweden Award 2007), Alberto Pinton Quintet, Yttling Jazz (with Bjorn Yttling from "Peter, Bjorn and John"), Fredrik Nordström Quintet (Jazz in Sweden Award 2002), Klaus Holm Kollektif. He was the vibist of the swingtronica-duo Koop between 2001-2008, touring all over the world. He recieved the Swedish Radio Award 2002 as newcomer of the year for his album "Ståhls blå".
Swedish vibraphonist Mattias Stahl plays with all the mystery and urgency of early Bobby Hutcherson, and writes brisk, hairpin-turn compositions that owe much to Ornette Coleman. This was perhaps my favorite concert of the festival...
Nate Dorward, Cadence (US)
...making utterly fresh, attractive, intelligent and wryly playful music.
Rob Adams, The Herald (UK)
Atmosphere, humor, drama: swedish jazz in excellent shape.
**** -- four stars
Cuadernos de Jazz (SPAIN)